In the blog series of How to apply Food License or Registration in India, in Part-1, we briefly highlighted what is meant by FSSAI. In Part-2 of this series, we thrown light on Eligible Food Business Operator for basic registration and benefits of FSSAI registration.
Small and medium size food business enterprises with annual turnover of ₹12 Lakhs to ₹20 crore are required to obtain FSSAI license issued by State. The License can be issued for tenure of 1-5 years and shall be renewed before expiry.
With continuation to the previous blog, in this blog we will discuss the complete process of FSSAI State License. The license granted in Form C shall be displayed at the business premises by the FBO. The FSSAI Logo and License number shall be displayed on the food product. The Food Authority has issued detailed guidelines/clarifications relating to the FSSAI logo and license number on the label of the food product vide F. No. 4/15015/30/2011(Pt.-1) dated 23rd June, 2014.
Eligibility for State License
All FBOs whose annual turnover is more than ₹12 Lakhs and upto ₹20 Crore shall apply for FSSAI State License. The Eligible Criteria Document contains detailed eligibility criteria's for applying for State License. Further the State License fees can also be determined from this list.
Benefits of FSSAI State License
Consumer awareness.
Brand recognition amongst the public at large.
FSSAI Logo helps in building goodwill for the product.
Legal advantage.
Advantage over their competitors operating in the same market.
It ensures the health and hygiene of food safety.
Helps to regulate, manufacture, storage, distribution and sale of import food.
Documents required for FSSAI State License
Form-B Duly completed and signed (In Duplicate) by the Proprietor/Partner or the Authorized Signatory
Blueprint/layout plan of the processing unit (mandatory for manufacturing and processing units only)
List of Directors/Partners/Proprietor/Executive Members of Society/Trust with full address and contact details (mandatory for companies only)
Name and List of Equipment's and Machinery along with the number, installed capacity and horse power used (mandatory for manufacturing and processing units only)
KYC documents of Proprietor/ Partner/ Director(s)/ Authorized Signatory
List of food category desired to be manufactured. (In case of manufacturers)
Authority letter with name and address of responsible person nominated by the manufacture.
Analysis report (Chemical & Bacteriological) of water to be used as ingredient in food from a recognized/ public health laboratory to confirm the portability (mandatory only for manufacturing and processing units only)
Proof of possession of premises. (Sale deed/ Rent agreement/ Electricity bill, etc.) (optional)
Affidavit of Proprietorship/Partnership Deed/ MOA & AOA of the Company/Certificate of Co-operative for Co-operatives.
NOC & Copy of License from manufacturer (mandatory for relabellers and repackers only)
Food Safety Management System plan or certificate (if any)
Source of milk or procurement plan for milk including location of milk collection centers etc. in case of Milk and Milk Products processing units.(wherever applicable)
Pesticide residues report of water in case of applicable units
Recall plan wherever applicable, with details on whom the product is distributed
NOCs from Municipality or local body
Form IX: Nomination of Persons by a Company along with the Board Resolution
Certificate provided by Ministry of Tourism (HRACC). (Mandatory for Hotel Only)
For Transporters-Supporting documentary proof for Turnover or self declaration of number of vehicles. (Mandatory for Transporter Only)
Steps in the registration process
The FSSAI Licensing/Registration is a complete online process. The registration process may take 30-60 days for approval. The steps to be followed are as follows:
Login to the FSSAI portal using your User ID and password. For first time user login use Sign up.
Submit Form A to food and safety department along with complete list of documents attached thereto.
Food Authority may approve or reject the application within seven days from the receipt of an application.
The authority will issue a registration certificate if the application is accepted. The registration shall be renewed before 30 days of date of expiry.
It is mandatory for FBO to display the certificate of registration at the business premises.
During this COVID-9 situation, the department has issued specific directions for issuance of Offline Licenses/Registrations in case of exceptional situations vide letter dated 27th March 2020. Further Advisory for processing of license/registration application was also made vide order dated 31st March 2020. The Authority has suggested e-inspection and post inspection depending upon the applicant.
Government Fees for State License
The fees for State License ranges from ₹2,000 to 5,000 per year depending upon the category of FBO. The applicants can use this link for determining the government fees applicable.
Annual Compliances
Registered entities under FSSAI are required to file the following as an compliance to be made under FSS(Licensing and Registration of Food Businesses) Regulations, 2011
Annual Return Form D-1

This return is applicable to all FBOs except of those involved in Milk and Milk Products.

Due date of return: 31st May of the following financial year.

Half-Yearly Return Form D-2

This return is applicable for FBOs involved in Milk and Milk Products.

Due date of return: Within one month of the end of the preceding half year
In order to provide relief to the FBOs in this pandemic crisis situation, the authority has provided extension for submission of the above returns vide letter dated 11th April 2020 bearing File No. 15(6)2020/FLRS/RCD/FSSAI
Other than returns, the FBO shall satisfy the specified conditions mentioned by the government to be actively compliant.
Consequences of Non-Compliance
Every registered or license holder under the FSSAI have to follow all the rules and regulations framed under the FSS Act, 2006. Generally the Food safety officers conduct inspection of the registered business premises and conducts complete compliance check. If the officer feels there is lack of compliance then he can issue improvement notice. If the FBO fails to comply with this notice then his license may get cancelled with the opportunity of being heard. There are penalty provisions also for non compliance ranging from Rs. 2 Lakhs to Rs. 10 Lakhs.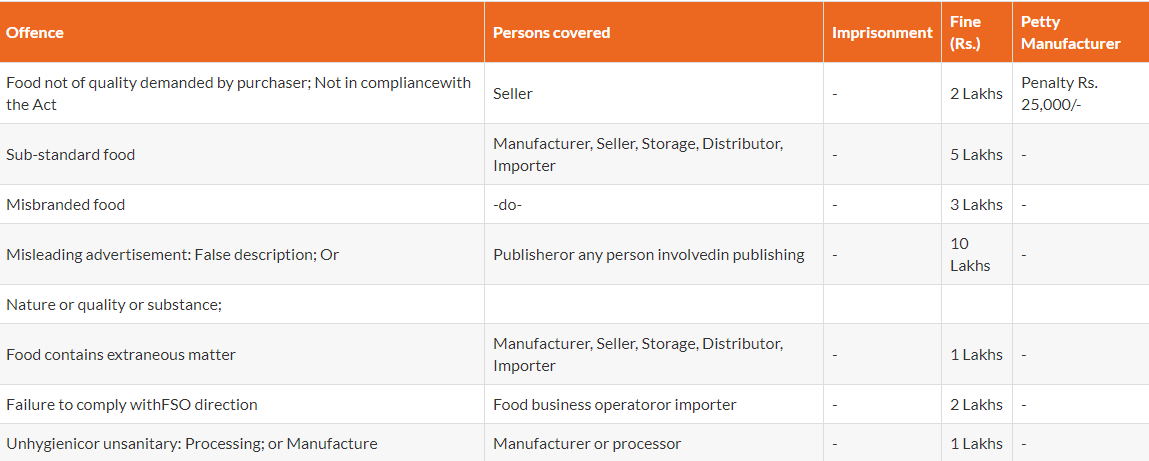 Frequently Asked Questions(FAQs)
Can FSSAI license be modified?

Yes, the license can be modified if there is any change in Form C details. The modification fee equals to 1 year license fees.

Whether manual license can be converted into online?

Yes, manual license issued can be converted into online through renewal process. A Designated Officer can then create a USER ID and issue a system-generated license number.

What is the validity of FSSAI License?

The License can be issued for the period ranging from 1 to 5 years.

What is Improvement Notice & who issues improvement notice?

The improvement notice is the notice issued by Designated Officer if FBO fails to comply with the regulations as mentioned in Section 32 of the FSS Act, 2006.

What are the advantages of incorporating your manually issued license to the online system?

It will minimize the number of documents required during renewal of license. The old license number will also be attached with the new license number. FBO will be able to track the application during the course of processing.
For more FAQs released by government related to licensing/registration, follow the link.